Aviation fans everywhere love the Avro Lancaster. Canadians had begun crewing on Lancasters with RAF Bomber Command as soon as the "Lanc" began operations late in 1941. The distinct RCAF bomber group formed a year later (No.6 Group) was flying Canadian-built Lancaster Xs by war's end.
Today, I'm looking back to April 4/5, 1964 in RCAF Lancaster history. That was somewhat melancholic, being the week the RCAF retired its Lancasters. For the occasion, Lancasters KB882 and KB976 (both the long nose, Arctic reconnaissance version) and FM104 (search and rescue version) had starring roles at RCAF Station Downsview in Toronto. Many RCAF veterans attended to honour their beloved "Lanc" and walk around it on the ramp for one last time. Thanks to "Lancaster KB976 – The Full Story" (you can google it) we know all about KB976. For KB882 see such sites as Lancaster KB882 – National Air Force Museum of Canada
What about FM104? Although it had gotten to the UK in 1945, it arrived too late in the war for bombing operations. It soon flew home to spend several years in storage, before being converted for its important SAR role. FM104 then put in several years at Torbay, Newfoundland patrolling Eastern Canada and the NorthAtlantic with 107 Air Sea Rescue Unit. Once retired in 1964, it was acquired by the RCAF Association and displayed for decades atop a pylon in Coronation Park on Toronto's downtown waterfront. Nearby were some other important emblems of Canada at war – the famous RCN destroyer HMCS Haida,a Sherman tank, and an artillery piece. Eventually, Toronto's anti-war city councilors prevailed and all these historic reminders of Canada's revered (by most decent citizens) military past were removed.
Happily, FM104 was saved. In 1999 some avid Toronto Aerospace Museum volunteers dismantled it and moved it to Downsview airport in north Toronto for gradual restoration. Some solid progress was made, then the museum suddenly folded. Inevitably, a discussion arose about FM104, ownership of which by then was with the City of Toronto. Various museums made cases for acquiring FM104. For a few months the story became a bit of a media sensation, especially when the British Columbia Aviation Museum made its proposal. Some factions in eastern Canada campaigned to "save" FM104 from going west. However, eastern Canada already had nearly all of the country's Lancasters. The only example in the west was in Calgary, but the West Coast had had its own impressive postwar Lancaster history. From 1952 to 1959, No.407 Squadron at Comox on Vancouver Island had operated Lancasters flying such important missions as anti-submarine warfare, search and rescue, and fisheries patrols. It made sense to me that FM104 should go to the BCAM, so on January 31, 2018 I wrote this letter:
To: Ms Gabrielle Major, Registrar, Toronto Museums and Heritage Services. Dear Ms Major … I have heard that the British Columbia Aviation Museum would like to acquire the City of Toronto's Avro Lancaster WWII bomber. This brought me back to April 5, 1964, when I attended the official retirement at Downsview airport of this very Lancaster — FM104. Since then we enjoyed the sight of FM104 when it was on display for decades in Coronation Park down on the lakeshore. In more recent times, we watched as work was done towards its restoration at Downsview with the now-defunct Toronto Aerospace Museum. It would be good to get this Lancaster out to the West Coast, since the Lancaster made a major contribution towards Canada's West Coast defense, and search-and-rescue in the postwar years. Yet, BC has no Lancaster, while quite a few are east of the Rockies. I hope that the BCAM can meet your standards for acquiring this piece of Canadian history. I have seen the high quality work that the BCAM has done on many restorations, so the museum has what it takes. Best regards and feel free to call any time if you have an aviation history query. Larry Milberry, Publisher, CANAV Books.
Happily, FM104 today resides with the British Columbia Aviation Museum near Victoria International Airport. Who knows, eh, maybe CANAV's letter helped the BCAM cause. You can see much about the museum and how FM104 is progressing by surfing the net. This week, Canada's magnificent "Skies" magazine published the latest FM104 update. Be sure to take a look:
PS … if you have a spare 6 minutes,
check out Rick Mercer's wonderful coverage of his flight in the Canadian Warplane Heritage Museum Lancaster! Here is is …
https://youtu.be/CAnqbFiLbyM
Commonwealth Air Training Plan Museum … here is a 2020 walk-around on the hangar floor of this renowned Brandon, Manitoba aviation museum. Worth a look when you get a few minutes. This is the real deal, even the hangar being a WWII original!
AIR CADET LEAGUE OF CANADA
ANNUAL FUNDRAISING CAMPAIGN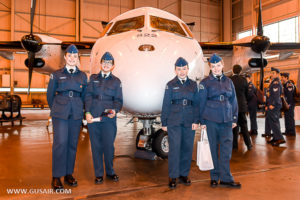 Envisioned as Canada's premier and world class youth development movement, the Air Cadet program seeks to encourage and enhance the development of well-adjusted, civic minded youth in undertaking leadership roles in a great Canada and a better world. The Air Cadet League of Canada's mission is to promote Canadian youth to develop an interest in aviation and aerospace and to provide opportunities to engage in enriching program elements such as physical education, music and public speaking.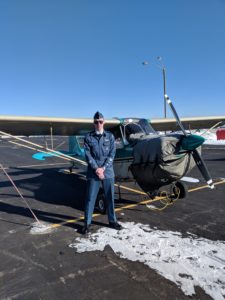 Supporting Air Cadets makes a difference in the lives of young people. Let's work together to make sure that every Cadet has the opportunities – Donate Today!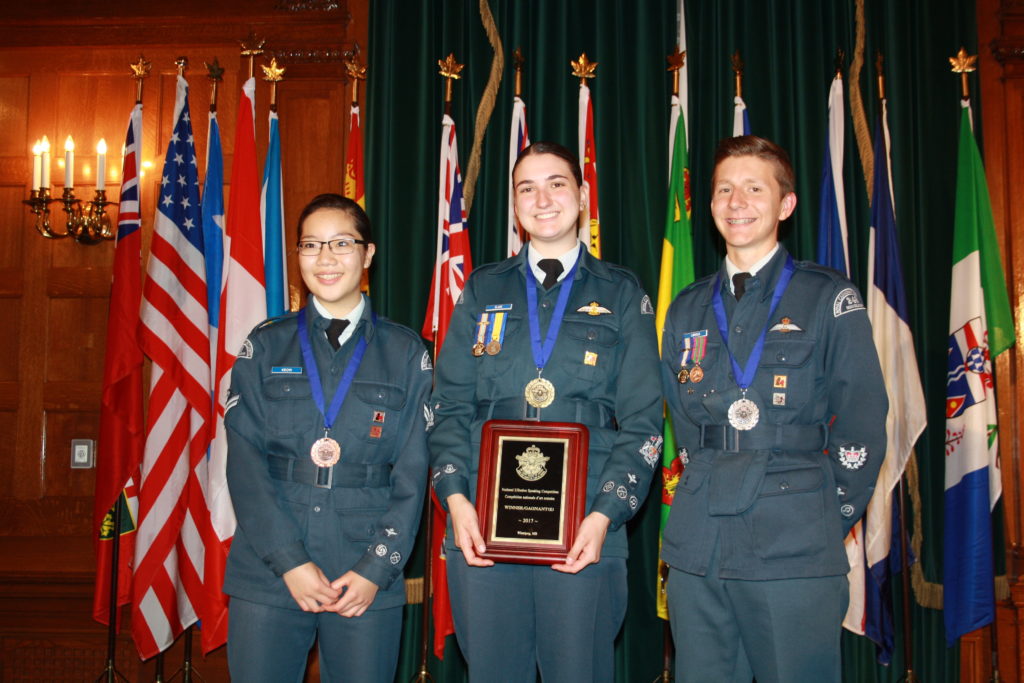 Every cadet has a story …
"My name is Warrant Officer 1st Class Heather Blake. I am a member of 514 Air Cadet Squadron in St. John's, Newfoundland and Labrador. When I joined cadets as a 12-year-old, thanks to growing up around members of the program, I already knew a lot of the opportunities that would be made available to me. What I could never have anticipated, however, is the way being an Air Cadet would make me feel. The camaraderie, the self-discipline, the adventurous spirit – but most importantly, the desire that comes only from the pursuit of your dreams. That is exactly what Air Cadets has allowed me to do – it not only gave me the opportunities, but it gave me the courage and the drive to both reach for my dreams and achieve them. I can never truly express how grateful I am for that."Warrant Officer 1st Class Heather Blake (center of photo) 514 Kinsmen Air Cadet Squadron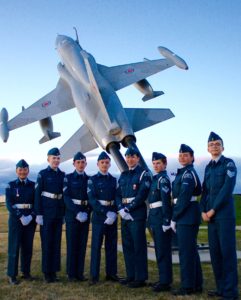 Your Gift … Supporting Air Cadets makes a difference in the lives of young people. Let's work together to make sure that every Cadet has the opportunities that cadets like Heather are so grateful to have had – opportunities that shaped their lives!
Thank you for supporting our Air Cadets and a special thank you if you have donated recently. You can donate to the Air Cadet League of Canada online with credit card or by sending us a cheque with the printable donation form also found on our website. Together we can make another 78 years of excellence and innovation in youth development programming a possibility. Yours sincerely, James Hunter, CD
************************************************************************
A Tradition of Excellence: Canada's Airshow Team Heritage CANAV's pleased to re-introduce you to Dan Dampsey's ace of a book. Here at CANAV HQ, I have my autographed copy on a shelf with what I call "the finest aviation books in the world". This truly is the most magnificently-produced Canadian aviation book, a treasure deserving a place of honour in your library. "TradEx" will give you decades of fabulous reading. Full coverage from 1919 into the 2010s of such great teams as Bishop-Barker, the Siskins, Golden Hawks, Golden Centennaires and Snowbirds. Everything from the Fokker D.VII to the Harvard, CF-100, Banshee, Sabre, T-33, Tutor, CF-104, CF-18, Kiowa – even such surprises as the Argus & Sea King in "demo" mode! Fascinating civil types also pop up. Some 2000 photos + 42 original paintings by the great Peter Mossman. You'll revel in every page. Treat yourself & show your support for someone who put it on the line for Canada's aviation heritage! 766pp, 4 kg, hc, 9.5×12 in., app'x, biblio, index. Your signed copy: all-in just $130.00 Order directly from Dan at afteams@gmail.com
************************************************************************
Reader comments: Ref. our 2015 blog item "A Few More Norseman Tidbits for the Fans"… our blog readers always provide valuable input, once they've had a look. Today, for example, I heard from someone who found an item on the blog that could make someone melancholic, but, in her case, happy, as well. She writes: "Thanks for this little bit. My father in law was the referred to S.B. Ladell. He suffered major injuries in the crash but did meet his future wife while in hospital." There's a lot more to aviation history than we sometimes realize, right!
Harbour Air Boosts Operations from Vancouver … Canada's famed West Coast operator is edging back into the business. The CBC tells the story:
Preview YouTube video Harbour Air banks on B.C. tourists, adds routes